Bitdefender has a strange licensing process in that you must go through a Bitdefender Reseller to renew or upgrade your license. You cannot renew directly through the Bitdefender Company itself. There is no self serve online renewal or anything. We have used Guardian Network Solutions for our Bitdefender License Renewals and they have been good so far.
Getting the license is easy but once you do how to you change your Bitdefender license number in GravityZone? It really is not very intuitive at all and took awhile to find. So here it is with pictures and all.
To change your Bitdefender License in GravityZone first copy your license number and then login to GravityZone. Once logged in at the top right of the screen where it says "Welcome, User" (it may say "Welcome") click and then choose the drop down called "My Company". Scroll down and you will see a second section with your License and an area to change it. Once you enter the license be sure to click "Check" and then also "Save" at the bottom of the page. If you do not save it the changes will not take place.
Bi8tdefender License Location in GravityZone

Enter the Bitdefender License Here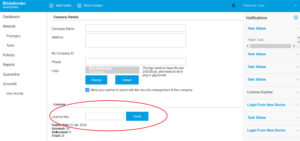 Remember you must hit save after entering the license or the changes will not take place!